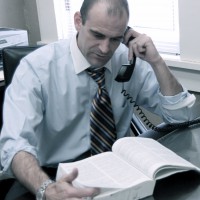 A misdemeanor is a crime for which the maximum possible punishment is incarceration for one year or less. Generally, misdemeanors are crimes that are non-violent and/or involve lower levels of harm than felonies do. It is important to have competent, capable legal representation on a misdemeanor to avoid the pitfalls involved in misdemeanor representation.
You can call me immediately at (504) 571-9529, text me at (504) 237-5245, or email me using the "Contact Us" form to the right of this page. I promise your message will be answered immediately.
What is a Misdemeanor in Louisiana?
Although less serious that felony crimes, misdemeanors convictions can have serious consequences for future employment and educational opportunities. The penalties typically include fines, property forfeitures or incarceration in a jail for one year or less. Most misdemeanors involve the possibility of probation.
Getting arrested for a felony in Louisiana is still a serious situation however, and you will want to talk to a lawyer as soon as possible to discuss your case and decide what your most appropriate options are. For more information on what to do if you are arrested for a misdemeanor, click here.
In New Orleans some misdemeanors cases are handled in the Criminal District Court, while some others are handled in New Orleans Municipal Court.  Many misdemeanor offenses can be negotiated to a complete dismissal, or expunged off of your criminal record by a competent attorney. For more information on expunging a misdemeanor arrest and conviction, see this page.

What Kinds of Cases are Misdemeanors in Louisiana?
Misdemeanor crimes include crimes such as:
1st offense possession of marijuana
simple battery
theft
minor weapons offenses
domestic violence
public intoxication
disturbing the peace
minor in possession of alcohol
possession of marijuana
alcohol in a motor vehicle
criminal trespass
failure to pay for food or beverage
soliciting for prostitutes
Comments
comments