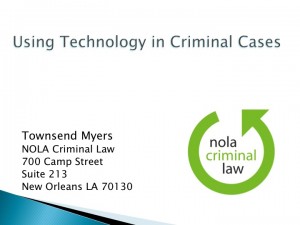 I had the privilege last Friday to give a presentation on the use of technology in criminal cases to the annual meeting of the Louisiana Association of Criminal Defense Attorneys.
Rather than a step-by-step guide on how to use specific technological tools, or a discussion of best practices, the talk was geared to be an introduction to the idea of using technology in criminal cases for lawyers who might just have begun to think about the subject.
The talk stemmed from a seminar on the same subject I had attended in the fall of 2011, and the subsequent use of some baseline technology (eDiscovery, PDF document management, PowerPoint) in a federal criminal bank robbery case I tried in early 2012. The focus was on using determining what technological resources are available to the criminal lawyer or law firm, and using those resources to best advantage in each of three phases of a criminal trial: the discovery process, the case in chief, and opening and closing arguments.
Availability of Resources
As an initial matter, it is important to consider the technological resources available to the attorney for use in a criminal courtroom. All jurisdictions are different and have different levels of technological capabilities. These range from a fully equipped electronic courtroom, where a lawyer's laptop computer can me "mirrored" on monitors  available for all parties (the jury, the lawyers, the witness and the judge); to an ELMO overhead projector system, where paper documents can be displayed on monitors and marked and manipulated electronically by the parties; to nothing.
Lawyers who want to use and display documents and argument presentations electronically can utilize existing technology in the courtroom, or if there is none, can provide their own. Some jurisdictions have televisions available that can mirror a laptop computer, and there is always the possibility of a lawyer providing his or her own projector to display documents. Suffice to say that it can be easy, or potentially challenging to use electronic presentations depending on the jurisdiction, and lawyers should be prepared to work within those constraints.
Discovery: Viewing and managing documents in preparation for trial
More and more these days criminal lawyers are receiving documents in electronic format. This can be paper reports in PDF format, photographs in JPEG format, or audio files in WAV or other audio format. It is important that the criminal attorney be able to open, review and organize this information to best suit her needs. Having documents already in a digital format also makes displaying documents at trial using digital resources that much easier.
If your documents, photographs, etc. are not already in digital format, you will of course need to convert them. Scanning to PDF takes a marginal amount of time, but believe me, it is well worth the effort. I encourage lawyers to learn more about "paperless" criminal law offices. My good friend and colleague, Ernest Svenson, has a website devoted to helping lawyers develop paperless practices.
Case in Chief: Displaying and utilizing documents during direct and cross examination
Once your documents are organized digitally, and assuming the court has the appropriate resources (or your can supply your own), you are ready to present your documents during your case in chief. The resources you have available will help you determine exactly how you can use digital documents with witnesses.
If your witness needs to interact with or mark the document, you will need the resources of a more advanced electronic courtroom that allow for displayed documents to be digitally "marked up" with touch screen manipulation by a witness. Such a system allows a witness digitally highlight, circle or write on a document, and then to preserve that document as marked (either by printing it or saving it as a digital exhibit).
If on the other hand, your witness only needs to view and authenticate a document, and you then only need to show the document to a jury or judge, an old-fashioned overhead projector will work just fine. In either case, a criminal lawyer will need to make sure to have a plan for the preservation of all electronic evidence for appellate review purposes.
Opening and Closing Argument: Using PowerPoint to enhance your argument and help persuade a jury
In my experience, the real fun we as criminal attorneys can have with technology is in opening and closing arguments. What I am generally talking about here involves crafting an argument that uses the visual appeal of PowerPoint to help enhance the argument's effectiveness. That is, you make your argument to the judge or jury while displaying documents, photographs, and other images or words in a PowerPoint presentation.
There are a few things to remember when using PowerPoint during opening or closing arguments.
(1) The general evidentiary rules of argument apply – don't start adding things to your presentation that are not admissible or are irrelevant.
(2) While I don't believe that you need judicial "permission" to use PowerPoint, I think it is a good idea to clear it with the court anyway.
(3) Don't over-rely on PowerPoint – your strength as a lawyer should still be your ability to argue and be persuasive yourself. Use PP to enhance your argument, not to do the arguing for you.
(4) Use relevant documents and photos in PP, but don't forget traditional touch and feel evidence. If the jury needs to see the real thing, don't use a PP slide of a photo in its place.
(5) PP visual "tricks" (like highlighting words, or making words float in or out of a slide) can enhance good facts and diminish bad ones if uses appropriately, but don't overdo it and look tacky.
In sum, technology can provide tremendous help to a criminal defense attorney in the preparation and litigation of a criminal trial. Whether it is managing documents pre-trial, working with documents at trial, or utilizing documents and other evidence in argument, digital technology, when used effectively, can make the difference between winning and losing a criminal case.
Comments
comments