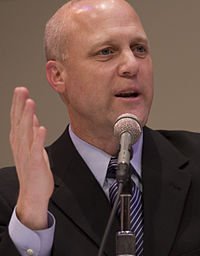 On April 26thTimes-Picayune reporter Brendan McCarthy sought information on whether the New Orleans police improperly reported theft as "lost or stolen property." On May 17th the department relented and produced a document so redacted it was illegible to the point that it led Civil District Judge Lloyd Medley to state he couldn't understand it. The judge ruled that the department and the Landrieu administration had violated the Public Records Law and ordered them to produce a decipherable copy.  Read the article
The mayor's office is appealing the ruling on the belief that they should be afforded the right to keep secrets, and in doing so released a statement calling this administration "a leader in openness and transparency." As Jarvis DeBerry asked, "How is it open and transparent when, after that unreasonable foot dragging, it turned over a report that, as Judge Medley says, is incomprehensible?" Read his column.
Landrieu defended his stance by citing the Louisiana Constitution's protections against unreasonable violations of privacy. Read Mitch's letter to the editor
Now that is an interesting stance, considering the NOPD has been demanding personal information from people on the streets who aren't guilty of any particular crime — information  like Social Security numbers, driver's license numbers, and addresses – and entering it into a departmental database. The police use the information to complete a quota of what are called Field Interview Cards (FICs).
As DeBerry reports, an internal police memo sent to the training academy by a veteran officer states that, "Officers are being instructed to complete these FICs whenever they come into contact with an individual regardless of the reason." This memo goes on to point out that this is an unconstitutional act. From the perspective of this long-time criminal attorney, I have to agree.
It is an irony beyond defense that the City and the NOPD could invoke the issue of privacy to protect their own records of reported crimes, while engaging in an ongoing policy of denying the right of privacy to scores of citizens who have not even committed a crime.
I am generally a big fan of Mayor Landrieu, but smoke screens and differences of opinion aside, this administration is not living up to the lofty standards of openness and fairness it promised at its inception, or that it continues to claim today.
Comments
comments