Tips for Essence Festgoers from NOLA Criminal Law
Posted on by Townsend Myers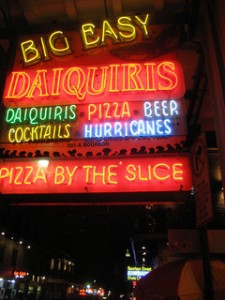 Aretha Franklin. Mary J. Blige. D'Angelo. The Pointer Sisters. Doug E. Fresh. Our own Rebirth Brass Band. New Orleans is hosting Essence Fest this weekend!
From July 5-8, the largest event celebrating African-American culture and music in the United States will be held in our city, as it has every year since 1995 (except for the year after Katrina — and all New Orleanians were thrilled when the fest decided to come back).
For those of you who are visiting New Orleans from out of town (especially if you are planning to cut loose) you should know about the unique Louisiana laws concerning public intoxication, drinking and driving, and more. You should also know your rights.
Here are some facts for you culled from my website, and some helpful legal information, in case you run into trouble.
First, a list of common misdemeanor crimes — crimes for which the maximum possible punishment is incarceration for one year or less. Generally, misdemeanors are crimes that are less violent or involve lower levels of harm than felonies do.
    1st offense possession of marijuana
    simple battery
    theft under $300
    minor weapons offenses
    domestic violence
    public intoxication (watch video about this)
    disturbing the peace
    alcohol in a motor vehicle
    criminal trespass
    failure to pay for food or beverage
    soliciting for prostitutes
    less severe battery cases
If you get in trouble, exercise your right to remain silent. You should only answer questions regarding basic information, like your name and address. Do not answer any other questions. But be very polite to the officers.
Contact me if you need assistance. You can call or text message me, Townsend Myers, at 504-237-5425. @NOLAlaw on Twitter
Hopefully, you won't have to drive at all in our walkable city… there are cabs, carriages, pedicabs to cart you around, anyway. But know what you are getting into if you get behind the wheel while intoxicated….
In Louisiana, any driver with a blood-alcohol concentration – or BAC – above .08% is measured "per se intoxicated" under the law.
The penalty for a first offense DUI/DWI is ten days to six months (maximum) in prison, plus a fine that will range from $300 to $1000. Your driver's license could be suspended or revoked.
If it is your first offense, it is possible to avoid jail time, but you need an attorney to help keep you out of jail. My advice is to always refuse the roadside breath test. In most cases, this will hurt your case. (Note: If you HAVE NOT been drinking AT ALL, it may benefit you to go ahead and take the test, but only if you have had NOTHING to drink).
Again,  contact me if you need assistance. Townsend Myers, at 504-237-5425. @NOLAlaw on Twitter
Comments
comments