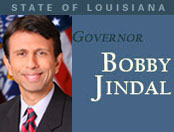 Lousiana Governor Bobby Jindal today announced that he is using his emergency executive powers to ban six compounds commonly used in the manufacture of "bath salts". Chemicals marketed as "bath salts" or "plant food" have been added to the Controlled Substance Act, making it illegal to possess, make or distribute them.
Bath salts have become increasingly popular as recreational drugs. There are reports that many people have become ill after using the chemicals to get high.  Marketed under brand names such as Cloud Nine, the bath salts are sold legally at many retail outlets in Louisiana. Despite packaging that says "not for human consumption," doctors and law enforcement leaders say drug abusers snort it, smoke it and possibly even inject the chemicals. The effects are like an amphetamine with hallucinogenic effects, much like Ecstasy, Cocaine, or PCP.
The six chemicals added to the list of Schedule I drugs are:  3,4-Methylenedioxymethcathinone (Methylone), 3,4-Methyenedioxypyrovalerone (MDPV), 4-Methylmethcathinone (Mephedrone), 4-methoxymethcathinone (Methedrone), 4-Fluoromethcathinone (Flephedrone) and 3-Fluoromethcathinone (3-FMC).
It is not clear from the Governor's press release what the exact mechanism for the change in the law will be, or when it will take effect. Louisiana Revised Statute 40:962 requires that the secretary of the Department of Health and Hospitals make certain determinations about a proposed drug's dangerousness and potential for abuse prior to adding it as a scheduled controlled substance.  It is not clear where in the process the secretary of DHH is, and a full report was not immediately available on the DHH website.
UPDATE 1/6/10, 5pm: Just received confirmation that the new law is EFFECTIVE IMMEDIATELY. Also received a copy of the actual Declaration of Emergency promulgated by the Secretary of the Dept. of Health and Hospitals.
The full text of the Governor's Press Release follows:
Today, Governor Bobby Jindal joined Department of Health and Hospitals (DHH) Secretary Bruce D. Greenstein, St. Tammany Parish Sheriff Jack Strain and other law enforcement officials to announce that a series of dangerous chemicals being marketed as "bath salts" or "plant food" have been added to the Controlled Dangerous Substance Act, making it illegal to possess, manufacture or distribute them in Louisiana.

Since the end of September, Louisiana Poison Control has received 165 calls from people in crisis after snorting, smoking or injecting these dangerous substances. Eighty-five percent of these calls came from emergency room physicians or first responders caring for individuals suffering the traumatic side effects of ingesting these chemicals as drugs. These types of crises are being reported across the country and the 165 calls in Louisiana represents nearly 57 percent of calls recorded nationwide. Further, Louisiana's reported calls about this drug are seven more times than Kentucky – which has received the second most calls at 23.

Users of these drugs are being treated for extreme paranoia, hallucinations, delusions, agitation, hypertension, chest pain, headache, and many report suicidal thoughts. Law enforcement officials and emergency room doctors have reported violent encounters with those high on the substance.

Governor Jindal said, "These drugs have crept into our communities and they are hurting our kids. We have to do everything in our power to protect our children and to make sure our streets are safe for our families.  The reality is that the chemicals used to make these dangerous substances have no legitimate use other than to provide a high for the user. Make no mistake – these are very dangerous drugs and we must get them off our streets.

"Today's announcement gives our law enforcement officials the tools they need to crack down on the people pushing these dangerous drugs. Indeed, our law enforcement officials can immediately take these drugs off the shelf – and at the same time, it's now illegal to possess and use these dangerous chemicals."

Under revised statute 40:962, the DHH Secretary and State Health Officer have the authority to add compounds as a Schedule I drug in the controlled dangerous substance act by rule if the substance has a high potential for abuse, has no currently accepted medical use in the U.S. and if there is no accepted safety use of the substance under medical supervision.

In total, there are six chemicals being added to the list of Schedule I drugs. Specifically, the chemicals added by rule are 3,4-Methylenedioxymethcathinone (Methylone), 3,4-Methyenedioxypyrovalerone (MDPV), 4-Methylmethcathinone (Mephedrone), 4-methoxymethcathinone, 4-Fluoromethcathinone and 3-Fluoromethcathinone. By adding these chemicals to the controlled dangerous substance act as Schedule I drugs, the possession, manufacturing or distribution of these drugs will carry penalties similar to those of heroin, which could mean up to 30 years in prison.

Governor Jindal said the state is also sending a letter to the United State Drug Enforcement Agency requesting they investigate the disproportionate number of cases in Louisiana to see if there is a reason to believe the state is a distribution center for these substances. Additionally, the Governor said he would pursue legislation in the upcoming legislative session to further crack down on the distribution and use of fake bath salts.

"We are seeing an increased rate of psychotic symptoms in people after ingesting these drugs. The growing rate of calls to poison control and reports from law enforcement and psychiatric facilities is extraordinarily alarming and demands swift action," Secretary Greenstein said. "Louisiana Poison Control Director Dr. Mark Ryan tells me that in 20 years with poison control, he's never seen a phenomenon like the one Louisiana is experiencing today. On Christmas Day alone, he recorded nine calls. People just don't understand the devastating effects these drugs are having. At least one psychiatric unit in the state is reporting to us that half of its patients in any given week in December were related to this drug."

These fake bath salts, commonly manufactured in China and India, are being marketed as bath salts and are being sold in individual bags on the Internet and in convenience stores and on the street by the brand names Ivory Wave, Ocean, Charge +, White Lightening, Scarface, Hurricane Charlie, Red Dove, Cloud-9 and White Dove. These substances have already been banned in the United Kingdom and several other countries, including  Israel, Australia and Canada. In the United States, Kentucky has already filed legislation to ban the substance and North Dakota's Pharmacy Board has added several of these same chemicals to their state's banned substance list.

Louisiana State Police Colonel Mike Edmonson said, "Leadership is critical in our efforts to protect the citizens of Louisiana, and I applaud the leadership of Governor Jindal and Secretary Greenstein for taking this important step.  Nothing is more important than our children, they are our future.  We remain committed to working with our law enforcement partners across the state to educate the public on the dangers of synthetic substances and take appropriate enforcement action when necessary."

Dr. Rochelle Head-Dunham, medical director of DHH's Office of Behavioral Health, reminded parents that laws alone are not enough. "Parents must sit down today with their children and have a very honest and serious discussion about the consequences these drugs – and all illegal drugs have – not just the physical and psychological consequences, but now, the legal consequences. We need young people to understand that this isn't a game."
Comments
comments