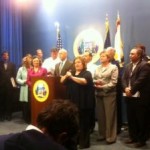 Courtesy of NOLA Defender.
As New Orleans gets ready to open the Mardi Gras Mainline down St. Charles Ave. on Friday, Mayor Mitch gathered city officials and the press today to remind everyone that there will be police officers everywhere during Mardi Gras, that it is possible to be rude to others on the parade route and that the City of New Orleans now employs elbow grease.
"This event cannot work well without complete cooperation of citizens," Mayor Mitch, flanked by City Councillors Jackie Clarkson and Susan Guidry, said. "Be civil, be respectful, follow rules, and be courteous to fellow parade-goers."
NOPD Chief Ronal Serpas took a few moments to remind the public about a few parade route rules. Among the selections:
Don't throw anything back at a float. (It's illegal.)
Ladders must be far enough away from the curb so children who fall do not fall into the street.
Don't bring a large BBQ pit to the parade route. (Bring your small one.)
Don't put chairs or other items on the roadway between the neutral ground.Don't park your car directly on the corner of two streets.
As Landrieu said, it "If a police officer asks you to move, I think you should move. I learned that as a teenager."
Don't bring your living room to the neutral ground during Endymion.
On the last topic, Landrieu offered a warning similar to one issued last year that was later found not to have been enforced:
"If you rope off an area and don't let anyone in there, you're gonna get asked to take that down," he said.
Sheriff Marlin Gusman also implored people to wear flame retardant costumes, and City Hall promises all parade routes will be clear of debris within three hours of parades rolling through.
Comments
comments